The Club attended The RIAC National Classic Car Show in the RDS on 9th & 10th February 2013 and had a stand which displayed five cars belonging to our members.
Below at the show from left to right;(seated) Louis Woods & Seamus Langan, (standing) l/r;Kevin Hoey, Gerry Hoey, Sarah O'Mahoney, Gerry Saurin, John Daly, Joe Clarke and Joe Hardy.
Here are the details and photos of the Club cars that were on our display stand;
Make: 1947 Austin Eight Reg: 47 D 20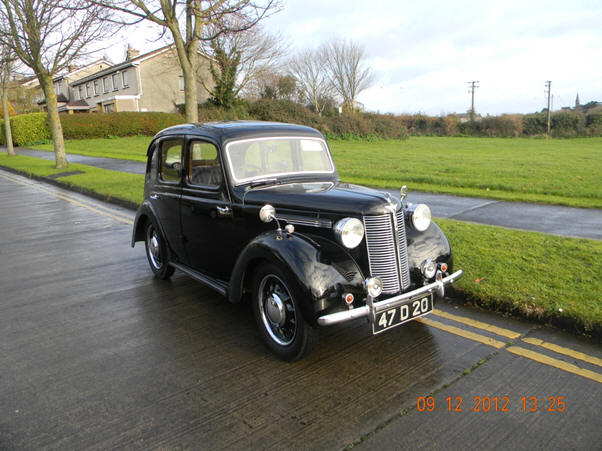 Owner: Seamus Langan
I bought this car in August 1997 after looking at it in a private garage in Dublin, it had just been brought in from England , after taking it on a 5 day run 700 miles around the East, South and West of Ireland I decided to overhaul the steering and springs during the winter months of that year.I used the car for next couple of years attending car shows in Ireland and Wales and a few family weddings.In late September of 2002 I decided to strip the car completely, all paint work removed down to bear metal, interior stripped out and engine gearbox ,petrol tank front axle ,doors and wings removed. All bodywork inside and out primed and 3 coats of black applied to primed metal by myself with the final coat applied by a local paint shopThe car was rebuilt using overhauled engine and gearbox and new wiring loom, new running boards. and road tested in the first week of May 2003Original Price of Car in 1947 was ?49 which included sliding roof
==================================================================================
1964 Sunbeam Rapier Mk.4 Reg: ZV 3350
<![if !vml]>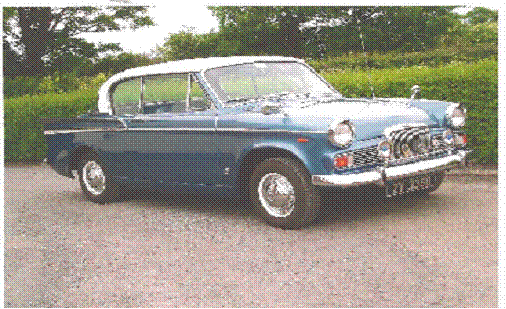 <![endif]>
Owner John Daly
The Mark 1 first appeared in 1955.it was the Sport version of the Hillman Minx Over the years it went through several upgrades to the Mk.5 in 1965 they were used extensively for rallying including the Monty Carlo Rallies they were a very fast car the one today is 1964 Mk 4 it is fitted with 1725 cc engine 4 speed gearbox with overdrive on 3nd 4 gear it also has disc brakes on front wheels which makes it a very fast and safe car ,very comfortable and well been able to keep up with modern traffic. I purchased the car in UK in 06 from the wife of the owner who was deceased. He had fully Restored the car before he died .The car had been lying up for a number of years and needed to be commissioned. When I got it running I found it to be a great car which I now enjoy very much.
==========================================================================
Plymouth Model Q Tourer
<![if !vml]>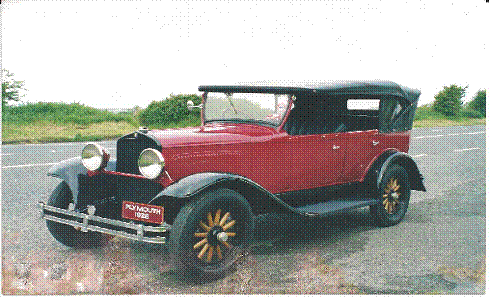 <![endif]>
Owned and Restored by Joe Hardy
The 1928 Plymouth Model Q was in introduced by Chrysler in America in July 1928. Chrysler's entry into the low-priced field was a conventionally styled automobile designed as a competitor to Ford and Chevrolet. Although it was a little more expensive it was called a "darling and refreshing change in motor design. At $725 the car was considerably more expensive than the $595 Ford Model A and Chevrolet although it was good enough to put Plymouth in 15th place for 1928. The model Q was available in different body styles including Roadster, Coupe, Tourer, Sedan and Phaeton.This 1928 Plymouth Model Q Tourer was imported from Australia in 1999 by Joe Hardy. It is a right hand drive model exported from America in 1928 for the Australian market. Although it was in good condition and reasonably well-kept the paint work was very poor. The shell was stripped back to bare metal and re-sprayed to its original colour by Joe and the interior underwent a full retrim and re-upholstered.This Plymouth Tourer model features features included a 4 cylinder engine, 4 wheel hydraulic brakes, original 18?wood spoke wheels . open canvas roof and full deft of side screens.Joe carried out a full restoration to this 1928 Plymouth and also fabricated a carrier box fitted to the rear of the vehicle which fits the character well. This 1928 Plymouth is a fine example of retaining originality of this special model Q Tourer which has survived well to this day.
==========================================================================
1938 Vauxhall 10/4 Saloon CDG 7
<![if !vml]>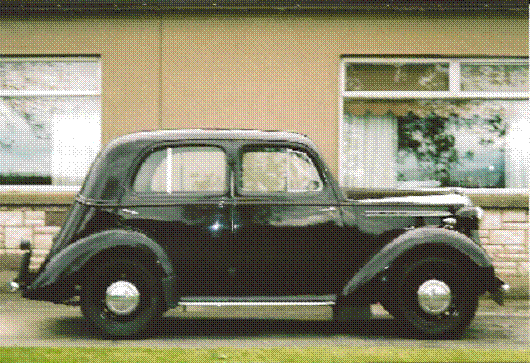 <![endif]>
Owner :- Joe Clarke
The Vauxhall Ten is a small British-built four-door saloon first shown in public in October 1937.
A striking structural innovation was the Ten's integral (chassis less) construction .The success of the new Ten was really putting Vauxhall on the crest of the prosperity Wave. The 10?00 Ten was sold within five months of the models introduction. A standard Saloon cost ?68. The deluxe model was only an extra ?4. Fuel economy was one of the cars major selling features. The revolutionary Ten was an immediate success. Unfortunately war intervened and Vauxhall's Luton plant switched to tank production and the Vauxhall Ten was unavailable after 1940.The name of the car referred to its fiscal horsepower, which at this time defined the class in which it was to compete against cars such as the Morris 10. The Vauxhall Ten's advertised horsepower in 1937 was 34bhp.The Vauxhall on show today is a 1938 Vauxhall 10/4 from the North East Vintage Car Club. Its features include a four cylinder overhead valve, down-draught carburettor, three forward gears and reverse hydraulic brakes front and rear and tension bar front suspension.
==========================================================================
1932 Austin 10/4 Reg: IY 2750
Owner: Gerry Saurin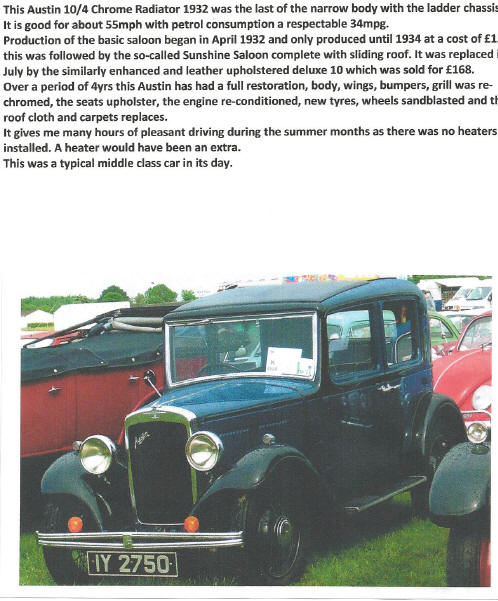 All are welcome to attend the many old vehicle club events held throughout the year.
Thanks to Trevor Mitchell and the members for the AOVC for the information on the Northern events.
Thanks to the IVVCC for the information on the southern events.
If you wish to advertise your events please email the details to paul@gartlan.com
Further information on NEVCC events can be obtained from Seamus Langan
email seamuslangan@iol.ie
For information on all other events contact the relevant club. Club contact information can be found on the Club Listings page.
Click on each month to view events for that month.